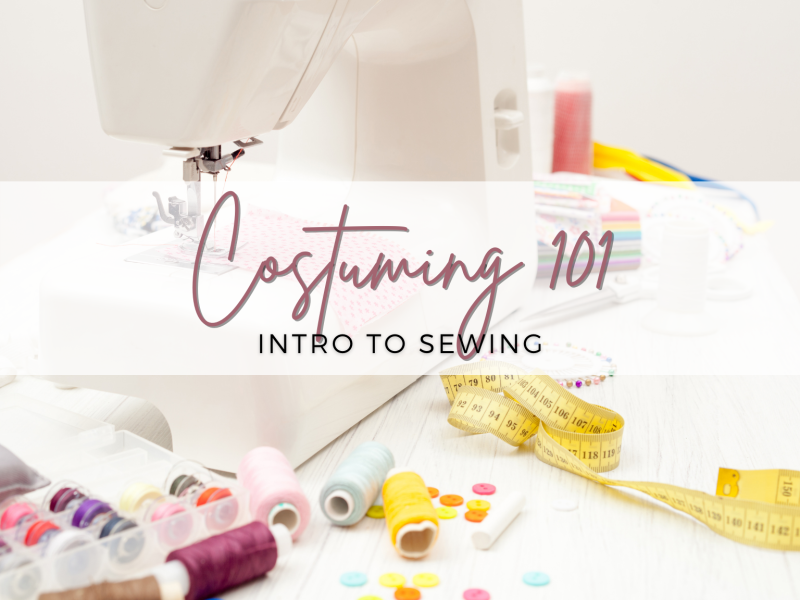 Costuming 101: Intro to Sewing
with RoseLynne Bowman
$12500
For ages 12 - 18
August 9 - August 13, 2021
9:30 am - 12:30 pm

Costuming 101: Intro to Sewing is a one-week sewing camp which will teach basic sewing skills, including hand and machine sewing. The class will take students from the preparation of sewing through completion of a finished project. Hand-sewing techniques will include selection of threads and needles, how to sew on buttons/snaps, and how to sew simple hem stitches. For machine sewing, participants will learn the parts of the machine and how to thread one, as well as how to use straight stitch, reverse, and zigzag stitches. Whether they choose to create a garment or a crafty gift, each student will have a finished product by Friday!
If you sign up for this camp, you get a $25 discount for our afternoon costume design camp. The afternoon camp takes place the same week as this camp.

Enrollment is limited for this camp due to spacing considerations, so register soon!
About the Instructor:
RoseLynne Bowman has sewn since she was 5 years old and began sewing for others when she was 11. By high school, RoseLynne discovered theatre, initially through friends' church youth groups. RoseLynne was active with theatre all through college and then in Charlotte, NC, with the LT of Charlotte and Spirit Square. RoseLynne's career has been as a Teacher for the Deaf/Hard of Hearing. Recently, due to the COVID pandemic, she came out of retirement to work with D/HH students on a part-time basis. Teaching is RoseLynne's life's work; teaching sewing is both her passion and dream.
Payment plan available: $25 deposit plus 1 payment of $100.00, paid every four weeks.
Aug

9

-

13th

,

2021

Mon - Fri

for

1 week

from

9:30 am - 12:30 pm

Will run
LTWS Workshop, 2900 Indiana Ave.
336-725-4001
2900 Indiana Ave
Winston-Salem, NC 27105 Get directions