Filter by Category
Adults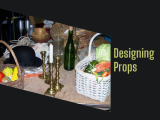 Designing Props
with Yvonne Truhon

Oct 16, 2021 at 1 pm
For High School Students through Adults
1pm-4pm
Saturday October 16, 2021
In this three hour workshop, students will learn the process of selecting and building props for a production. Topics will include working with the director, going through what a company has on hand, and - the especially fun part! - making props. Attendees will enjoy hands on experience as they create a food prop they can take home.
About the Instructor: I have been props master for various Little Theatre shows since 2001, and helped out with specialty props (mostly newspapers or other paper/stationery items) for several more. To mention just a few: A Chorus Line, The Glass Menagerie, A Streetcar Named Desire, To Kill a Mockingbird, Equus, Look Homeward, Angel, Duck Hunter Shoots Angel, A Funny Thing ... Forum, Pride and Prejudice, Little Women, The Great Gatsby, and Who's Afraid of Virginia Woolf? 
I hold a degree in Greek and Latin from Valparaiso University with a minor in drama.  I've worked in a variety of places: a doughnut shop, a bakery/restaurant, a costume shop, a printshop and a community newspaper, thus proving a college professor's saying: "If you can learn Greek, you can learn anything."
Saying GO and a Whole Lot More!
with Elizabeth Rief

Nov 6, 2021 at 10 am
A Stage Managing Workshop
For adults and high school students
Saturday, November 6, 2021, 10 am - 1 pm
Have you ever wondered what the stage manager's role is in design meetings, auditions, rehearsals, performances, and more? This workshop will provide a window into the life of a stage manager throughout the production process. Join us for an exchange of ideas and please bring your questions.
About the Instructor:
Elizabeth Rief, who is lucky enough to pursue two of her passions -- theatre and the Latin language, has enjoyed working, frequently as a stage manager, with local theatres for nearly 30 years and teaching Latin at Summit School for the past 21 years. She has stage managed more than 50 shows at several local theatres, including The Little Theatre of Winston-Salem, Spirit Gum Theatre Company, Winston-Salem Theatre Alliance, WSFCS Summer Enrichment, Wake Forest University Theatre, and more. Complicated shows with lots of moving pieces, like Baskerville, Noises Off, and A Gentleman's Guide to Love and Murder, are some of her favorites because of the communication and team work it takes to make them happen.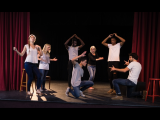 Online Registration Unavailable
Viewpoints: Actor Awareness and Discovery Through Movement
with Jess Barbour

Mar 6, 2022 at 3 pm
For high school students and adults
Sunday March 6
3hr workshop, 3pm-6pm


Looking for a fun workshop that will increase your body awareness and help you make strong choices on stage? Viewpoints, first developed by Mary Overlie and Anne Bogart, is a great way to build ensemble and individual performance by exploring space, shape, movement, and gesture. This three hour workshop for adults and high school students will consist of activities moving around the space as a large group with some small group work. The goal of the workshop is to examine how actors can tell stories through movement, adding one more tool to their actor's toolbox.  Wear comfortable clothing and come ready to play. Nothing needs to be prepared in advance and all levels of experience are welcome. 
About the Instructor:
Jess Barbour is a full time actor and teacher. She earned her BFA in Theatre from Elon University and studied with Bill Esper at The Esper Studio in NYC. She has taught and choreographed all over the area for local high schools, NCT Conservatory, Raleigh Little Theatre and North Raleigh Arts & Creative Theatre. She also works at the Anesthesiology Board of America and Duke University as a Standardized Patient training medical students and professionals in empathy and bedside manner through acting scenarios. She has performed professionally all over the Southeast and filmed on industrials, local and national commercials, voiceovers, television, independent and feature films. Her short film, Oh Crappy Day, was accepted into 38 film festivals, winning the 2015 Lou Costello Award for Best Comedy Short at the Garden State Film Festival and recently wrapped post production for the feature length film.